Mary Gauthier zingt empathie en compassie
7 juni 2022 – De Amerikaanse singer-songwriter Mary Gauthier heeft afgelopen vrijdag een nieuw album uitgebracht waarin empathie en compassie centraal staan. De titel 'Dark enough to see the stars' is ontleend aan Martin Luther King: "Trouble is in the land; confusion all around. But I know, somehow, that only when it is dark enough you can see the stars."
Herman Veenhof bespreekt het album voor het Nederlands Dagblad: "Gauthier schildert als geen ander de zelfkant van het leven, maar ook de hoop en compassie waarmee ze zichzelf en anderen uit het moeras trekt." Ze scheef er ook een boek over, "waarin ze beschreef hoe je van je eigen diepten nieuwe hoogten kan maken, door medeleven en dankbaarheid te combineren in totale empathie met anderen: Saved By A Song: The Art and Healing Power of Songwriting."
En ze weet waar ze het over heeft: ze was zestig jaar geleden te vondeling gelegd, leefde in vele weeshuizen, werd geadopteerd door een ontspoord gezin, raakte al jong verslaafd, kickte af van de heroïne en werd toen singer-songwriter.
De titelsong van het nieue album is volgens Veenhof "de sleutel voor het besef dat door verlies en duisternis een prachtig gevoel van helderheid en begrip kan ontstaan, over wat er echt toe doet."
Blues Magazine: "Grammy-nominated singer/songwriter/author Mary Gauthier expresses the joy of new love and how love prevails after loss on stunning new album 'Dark Enough To See The Stars' out June 3 on Thirty Tigers. (…) Her poignant songs move people deeply and often evoke an emotive response. (…) On Dark Enough To See The Stars, she mourns the loss of dear friends but Gauthier takes a slightly different course by offering an optimistic side of herself with songs that celebrate the joy of new love and personal contentment."
Bronnen
Bij Mary Gauthier draait het om empathie en compassie
Nederlands Dagblad, 3 juni 2022
Mary Gauthier
Website
Mary Gauthier – Dark Enough to See the Stars
Blues Magazine, 28 april 2022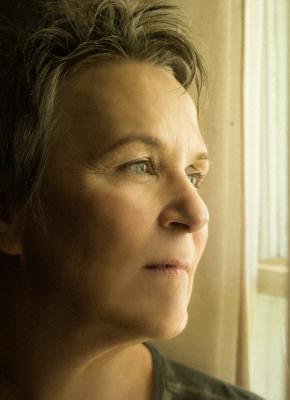 Mary Gauthier
Mary Veronica Gauthier (born March 11, 1962) is a Grammy-nominated American folk singer-songwriter and author, whose songs have been covered by performers including Tim McGraw, Blake Shelton, Kathy Mattea, and Jimmy Buffett. She has won multiple awards, including at the International Folk Music Awards, the Independent Music Awards, and from the Americana Association. Mary's songs often deal with marginalization, informed by her experience of addiction and recovery, and growing up gay, and demonstrate an "ability to transform her own trauma into a purposeful and communal narrative". Her 2018 album Rifles & Rosary Beads, co-written with military veterans and their families, has been hailed as a landmark achievement.